Computer Interface as Film: Post-Media Aesthetics of Desktop Documentary
Keywords:
aesthetics, desktop documentary, essay film, experimental film, interface, post-media, postproduction, video essay
Abstract
This paper explores a recently emerged audiovisual form called desktop documentary, an interdisciplinary computer-based variant of the essay film. As a post-media practice, no longer exclusively dependent on the film medium, desktop filmmaking represents a hybrid audiovisual genre entirely conducted in the digital environment by using and exploiting preexisting materials in new contexts while using the advantages of the Internet, widely used software and digital tools. Desktop documentary filmmaking corresponds to the widespread artistic practice of postproduction – a concept introduced by Nicolas Bourriaud signifying a new state of affairs when all texts of culture are already available (mostly as digital objects) and the artist intervenes on existing materials rather than produces artworks ex nihilo. Belonging to the tradition of essay film – a cinematic documentary and experimental mode in which moving images and off-screen verbal voice or textual captions establish complex relations – desktop video essays introduce new post-media aesthetics. Similar to the idea of using everyday materials in the artistic context, initially proposed with Duchamp's ready-mades, which unprecedentedly effaced every notion of the style from their avant-garde aesthetics, desktop documentaries often minimize and abolish cinematic stylistic qualities. One of the most significant aspects of desktop documentaries is that the act of film viewing does not differ from common computer user experience: having replaced traditional film screen with the computer interface, the interactive process of computational multitasking and navigation, performed on various digital data and files, becomes the very content of the film. After the historical overview of the phenomenon and general introduction into the post-media theory, selected works of representative desktop documentarists such as Kevin B. Lee and Louis Henderson are analyzed in their deconstructive approach to traditional and digital filmmaking – subversive both formally and politically.
Article received: May 28, 2019; Article accepted: July 6, 2019; Published online: October 15, 2019; Original scholarly paper
References
Bourriaud, Nicolas. Postproduction: Culture as Screenplay: How Art Reprograms the World, translated by Jeanine Herman. New York: Lukas & Sternberg, 2005.
Grant, Catherine. "On Desktop Documentary (or, Kevin B. Lee Goes Meta!)." Film Studies For Free. Last modified April 6, 2015. https://filmstudiesforfree.blogspot.com/2015/04/on-desktop-documentary-or-kevin-b-lee.html. Accessed February 15, 2019.
Guattari, Félix. "Towards a Post-Media Era." Translated by Alya Sebti and Clemens Apprich. In Provocative Alloys: A Post-Media Anthology, edited by Clemens Apprich et. al., 26–27. Lüneburg, London: Post-Media Lab, Mute Books, 2013.
Henderson, Louis. "All That Is Solid – Trailer." Last modified August 5, 2014. Vimeo. https://vimeo.com/102666180. Accessed February 15, 2019.
Jacobs, Flo et. al. "Roundtable on Digital Experimental Filmmaking." October 137 (Summer 2011): 51–68. doi: 10.1162/octo_a_00057 DOI: https://doi.org/10.1162/OCTO_a_00057
Jameson, Fredric. Postmodernism, Or, The Cultural Logic of Late Capitalism. Durham: Duke University Press, 1991. DOI: https://doi.org/10.1215/9780822378419
Kosnik, Abigail De. "Interrogating 'Free' Fan Labor." Spreadable Media. https://spreadablemedia.org/essays/kosnik/#.XGkphNQrKHs. Accessed February 16, 2019.
Lee, Kevin B. "Transformers: The Premake (A Desktop Documentary)." Vimeo. Last modified May 5, 2014. https://vimeo.com/94101046. Accessed February 16, 2019.
Lee, Kevin B. "Video essay: The essay film – some thoughts of discontent." BFI. Last modified May 22, 2017. https://www.bfi.org.uk/news-opinion/sight-sound-magazine/features/deep-focus/video-essay-essay-film-some-thoughts/. Accessed February 16, 2019.
Lopate, Phillip. "In Search of the Centaur: The Essay-Film." The Threepenny Review 48 (Winter 1992): 19–22.
Manovich, Lev. "Post-media Aesthetics." Manovich. http://manovich.net/content/04-projects/032-post-media-aesthetics/29_article_2001.pdf. Accessed February 1, 2019.
Manovich, Lev. The Language of the New Media. Cambridge, Mass.: MIT Press, 2001.
Pelle, Veronika. "A new genre in art education: The power of video essays." http://www.managing-art.eu/uploads/media/article/0001/01/8677431ec629899a5320471388e0b07204f2674f.pdf. Accessed February 12, 2019.
Steyerl, Hito. "Too Much World: Is the Internet Dead?" In circulacionismo / circulationism, 28–39. México, D.F.: MUAC, Museo Universitario Arte Contemporáneo, Universidad Nacional Autónoma de México, 2014.
Strauven, Wanda. "The Screenic Image: Between Verticality and Horizontality, Viewing and Touching, Displaying and Playing." In Screens: From Materiality to Spectatorship: A Historical and Theoretical Reassessment, edited by Dominique Chateau and José Moure, 143–56. Amsterdam: Amsterdam University Press, 2016. DOI: https://doi.org/10.1515/9789048531691-014
Wees, William C. Recycled Images: The Art and Politics of Found Footage Films. New York City: Anthology Film Archives, 1993.
Zile, Emile. "Mining the Cloud." Last modified May 23, 2016. https://emilezile.com/tag/www. Accessed February 12, 2019.
DOI: http://dx.doi.org/10.25038/am.v0i20.323 DOI: https://doi.org/10.25038/am.v0i20.323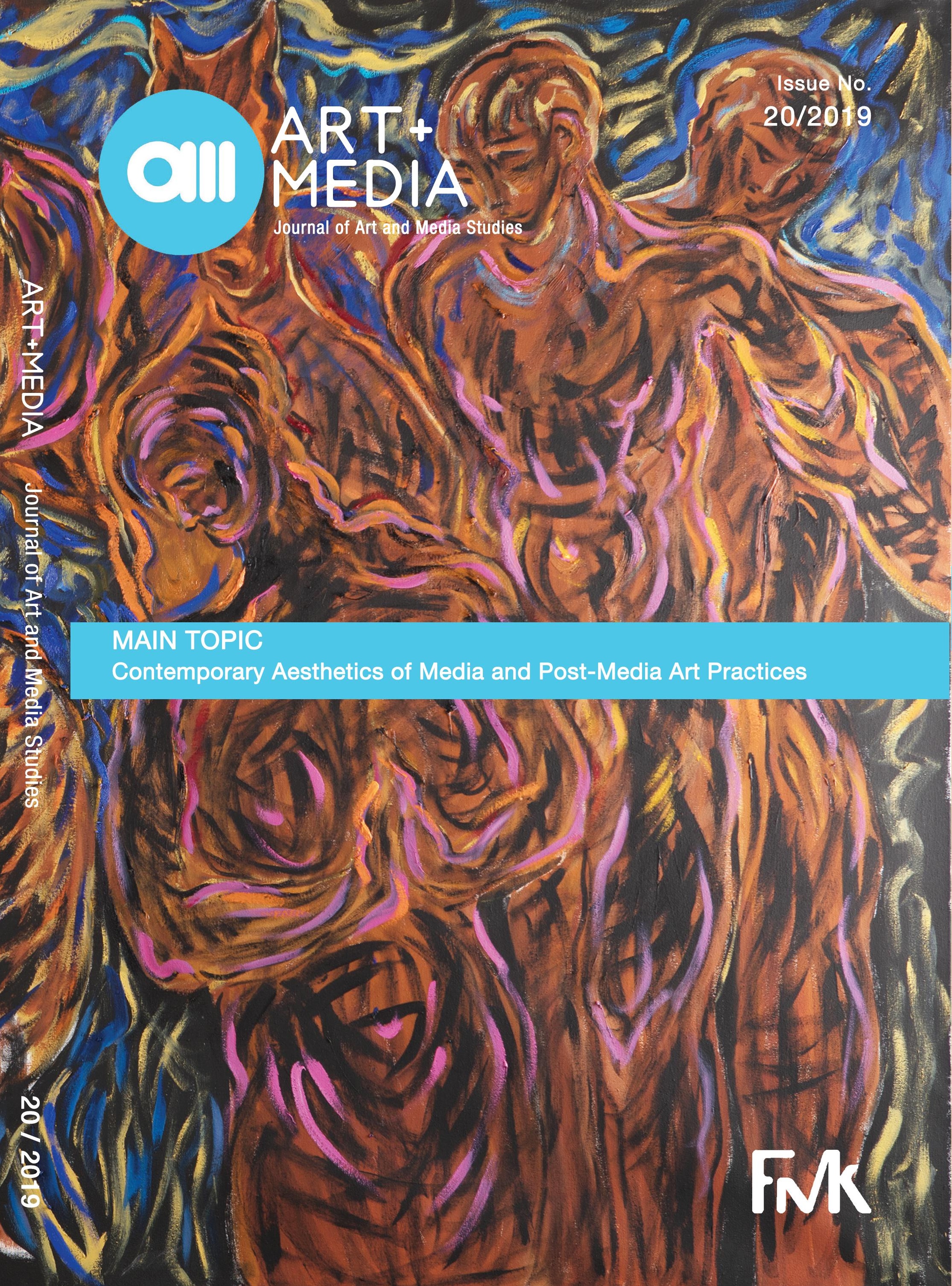 Downloads
How to Cite
Bešlagić, L. (2019). Computer Interface as Film: Post-Media Aesthetics of Desktop Documentary. AM Journal of Art and Media Studies, (20), 51–60. https://doi.org/10.25038/am.v0i20.323
Section
Main Topic: Contemporary Aesthetics of Media and Post-Media Art Practices
License
Copyright (c) 2023 AM Journal of Art and Media Studies
This work is licensed under a Creative Commons Attribution 4.0 International License.
The content on this site is licensed under a Creative Commons Attribution 4.0 International License.
AM Journal of Art and Media Studies ISSN 2217-9666 - printed, ISSN 2406-1654 - online, UDK 7.01:316.774
Contact: amjournal@outlook.com
Publisher: Faculty of Media and Communications, Singidunum University, Belgrade, Serbia
Indexed in: ERIH PLUS, EBSCO, DOAJ, and in The List of Scientific Journals Categorization of Ministry of Education, Science and Technological Development of Republic of Serbia (M24-2021). Beginning with No. 12 2017, AM is indexed, abstracted and covered in Clarivate Analytics service ESCI.