The Persistence of the Documentary Photobook in the Age of the Web
Keywords:
appropriation, documentary, quotation, recycling, self-publishing
Abstract
Several artists who take into consideration the existence of the Internet in their process of documenting the world remain faithful to the photography book. They find in the codex an experience that a screen remains incapable of providing. The adoption of the book by some documentarist artists engages appropriation practices from an ancient documentary project. War Primer 2 by Broomberg & Chanarin and Less Américains by Mishka Henner reproduce pre-existing books, respectively The ABC of War by Bertolt Brecht and The Americans by Robert Frank. The renewed interest of artists and photographers in books can be explained by a logic of comparison between the two media: the emergence of the web, with its formats and specificities, makes it possible to better appreciate, by analogy and distinction, what characterizes books and the web, and what makes their respective languages.
However, rather than thinking of the modes of publication as alternatives, some of the artists merge their logic by resorting to online self-publishing platforms that allow the self-production and self-distribution of books. The artist Mishka Henner stands out in particular for his systematic production of books on self-publishing sites.
Article received: March 31, 2022; Article accepted: June 21, 2022; Published online: September 15, 2022. Original scholarly paper
References
Abbe, Dan. "2012 Is the Year of Photobooks Online." Popular Photography (2012). https://www.popphoto.com/american-photo/2012-year-photobooks-online. Accessed March 13, 2022.
Baker, Stacey. "Erasing The Americans." The 6th Floor (The New York Times Magazine), 2012. https://6thfloor.blogs.nytimes.com/2012/02/28/erasing-americans. Accessed on March 13, 2022.
Brogowski, Leszek. Éditer l'art, Le Livre d'artiste et l'histoire du livre. Châtou: Les Éditions de la Transparence, 2010.
Buckley, Bernadette. "The Politics of Photobooks: From Brecht's War Primer (1955) to Broomberg and Chanarin's War Primer 2 (2011)." Humanities 7, 2 (2018). DOI: https://doi.org/10.3390/h7020034
Colberg, Jörg. "A Conversation with Adam Broomberg & Oliver Chanarin." Conscientious Photography Magazine (July 2013). https://cphmag.com/convo-broomberg-chanarin. Accessed on March 13, 2022.
Crimp, Douglas. Pictures, S'approprier la photographie. New York 1979–2014. Cherbourg-Octeville: Le Point du Jour, 2016.
Didi-Huberman, Georges. Quand les images prennent position. Paris: Éditions de Minuit, 2009.
Dupeyrat, Jérôme. "Les Livres d'artistes entre pratiques alternatives à l'exposition et pratiques d'exposition alternatives." PhD diss., Université Rennes 2, 2012.
Feuerhelm, Brad. "Broomberg & Chanarin Discuss God, Human Suffering and the Act of Divine Violence." American Suburb X (May, 2013). http://www.americansuburbx.com/2013/05/asx-interview-broomberg-chanarin-divine-violence-2013.html. Accessed on March 13, 2013.
Himes, Darius D. "Case Study: Mishka Henner" (March 2014). https://drive.google.com/file/d/0B0mxn7BUlcSUeU03UnQ2MjdtMHc/view. Accessed on March 13, 2022.
Hurley, Frank. "War Diary, August 21–October 28, 1917." http://acms.sl.nsw.gov.au/_transcript/2012/D14653/a2826.htm. Accessed on May 14, 2022.
Jackson, Alex. "Deutsche Börse Prize: Adam Broomberg and Oliver Chanarin." Port Magazine (April 2013). http://www.port-magazine.com/art-photography/deutsche-borse-prize-adam-broomberg-and-oliver-chanarin. Accessed on March 13, 2022.
Kuhn, Tom and Steve Giles, ed. Brecht on Art and Politics. London, New York: Bloomsbury Publishing, 2015. DOI: https://doi.org/10.5040/9781474243353
Mitchell, W. J. Thomas. Que veulent les images? Une critique de la culture visuelle [2005], translated by Maxime Boidy, Nicolas Cilins, Stéphane Roth. Dijon: Les Presses du Réel, 2014.
Mœglin-Delcroix, Anne. Esthétique du livre d'artiste [1997]. Marseille, Paris: Le Mot et le Reste, Bibliothèque Nationale de France, 2011.
Pantall, Collin. "Less Is More." British Journal of Photography 159, 7799, (April 2012). https://www.carrollfletcher.com/usr/library/documents/main/less-americains-pantall-bjp.pdf. Accessed on July 11, 2022.
Parr, Martin and Gerry Badger. The Photobook: A History – Volume I. London: Phaidon Press, 2004.
Shore, Robert. Post-Photography: The Artist with a Camera. Londres: Laurence King Publishing, 2014.
Uzanne, Octave and Albert Robida. The End of Books (1894). https://vestiges-journal.info/CSACMonog/Uzanne/uzanne.html. Accessed on March 13, 2022.
Vacheron, Joël. "Pouvez-vous nous parler. Mishka Henner. Interview par Joël Vacheron." Le Locle: Musée des Beaux-Arts Le Locle, 2016. http://www.mbal.ch/mbalwp/wp-content/uploads/MBAL-HENNER-FR.pdf. Accessed on June 28, 2022.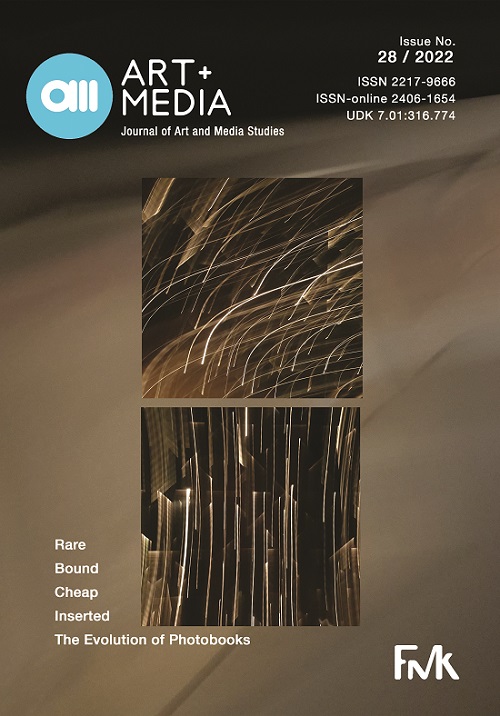 Downloads
How to Cite
Martin, J. (2022). The Persistence of the Documentary Photobook in the Age of the Web. AM Journal of Art and Media Studies, (28), 77–88. https://doi.org/10.25038/am.v0i28.518
Section
Main Topic: Rare, Bound, Cheap, Inserted – The Evolution of Photobooks
License
Copyright (c) 2023 AM Journal of Art and Media Studies
This work is licensed under a Creative Commons Attribution 4.0 International License.
The content on this site is licensed under a Creative Commons Attribution 4.0 International License.
AM Journal of Art and Media Studies ISSN 2217-9666 - printed, ISSN 2406-1654 - online, UDK 7.01:316.774
Contact: amjournal@outlook.com
Publisher: Faculty of Media and Communications, Singidunum University, Belgrade, Serbia
Indexed in: ERIH PLUS, EBSCO, DOAJ, and in The List of Scientific Journals Categorization of Ministry of Education, Science and Technological Development of Republic of Serbia (M24-2021). Beginning with No. 12 2017, AM is indexed, abstracted and covered in Clarivate Analytics service ESCI.