AM Journal of Art and Media Studies (ISSN 2217-9666 - printed, ISSN 2406-1654 - online) is an academic journal for art theory, media studies, cultural studies, general art sciences, philosophy of art and contemporary aesthetics with interdisciplinary approach and international scope. The journal is open to various theoretical approaches, platforms and schools of thought: avant-garde theory, semiology, poststructuralism, deconstruction, performance studies, theoretical psychoanalysis, neo- and post-marxism, cultural studies, media studies, gender studies, queer theory, biopolitics, new phenomenology, etc.
Since 2017, the Journal is issued in English three times per year (in April 15, September 15, and October 15), both in print and in digital, open access version.
The Journal was started in 2011. It is indexed in ERIH PLUS, EBSCO, DOAJ, CEEOL, and in the List of Scientific Journals Categorization of Ministry of Education, Science and Technological Development of Republic of Serbia (M51-2019). Beginning with No. 12 2017, AM is indexed, abstracted and covered in Clarivate Analytics service ESCI.
AM Journal is an associated journal of the International Association for Aesthetics.
Publisher: Faculty of Media and Communications, Singidunum University, Belgrade, Serbia
Contact: amjournal@outlook.com
Announcements
IN MEMORIAM Dr Vesna Mikić (1967–2019)

It is with deep sadness that we inform you of the passing of Dr Vesna Mikić, Full Professor at the Department of the Faculty of Music, University of Arts in Belgrade, and member of the Editorial Board of AM Journal of Art and Media Studies. Professor Mikić passed away on Wednesday, October 30 2019, after difficult illness.

Professor Mikić was the Chief of the Department of Musicology at the Faculty of Music. In addition, her activities in pedagogy included, over the years, engagements at the other institutions, such as the University of Arts (Interdisciplinary studies program), Faculty of Philology and Arts (Kragujevac), Academy of Arts in Novi Sad, Academy of Arts in Priština, etc. She was a guest lecturer at Conservatoire National Supériour de Musique et de Danse de Paris, Institute of Musicology at the Humboldt University in Berlin, and Department of Musicology at the Faculty of Philosophy in Ljubljana. She was deputy editor-in-chief of the New Sound Journal of Musicology.

Her initiatives for introducing topics at the time new in the local academic context resulted in several specific academic courses on the topics of electroacoustic music, theory and practice of musicology in media, theories, histories and genres of popular art, culture and music, on art, music and politics, on film and television music, and aspects of 20th and 21st century music.

It is important to stress that one of hers, unfortunately, unfinished projects, was introduction of the program Studies of (contemporary) music-media cultures (created with Branka Popović and Svetlana Savić).

Besides her broad academic and pedagogical activity, Professor Mikić was the pioneer in several scientific fields. In her study Muzika u tehnokulturi [Music in Technoculture, Belgrade, 2004] she analyzed the problems of music and technology while introducing methodologies of cultural studies in interdisciplinary musicological work.

Her second book, Lica srpske muzike – neoklasicizam [Faces of Serbian Music – neoclassicism, Belgrade, 2009], she wrote about Serbian 20th-century music practices. Interest for both 20th century and contemporary music was evident in numerous studies on Serbian authors, through which she made great contribution to the written word on contemporary composers. Among those, significant number was dedicated to the work of Srđan Hofman.

Finally, by introducing courses on popular music and founding the Centre for popular music research, she created the possibilities for researching this interdisciplinary field in which she gave several studies, focusing on many of those on the Eurovision Song Contest and its political consequences.

Finally, as a mentor, professor, colleague, member of commissions and various professional bodies, she was prepared to give honest, striking comments and unlimited support. Her openness for new topics, the capability to recognize and tackle innovative ideas in both her works and that of her colleagues and students, and continuous work on shaping contemporary musicology and theories of arts will be greatly missed.

Marija Maglov

AM Journal Secretary

Posted: 2019-11-19
No 21 (2020): Issue No. 21, April 2019 - Main Topic: The Worlds beyond European Aesthetics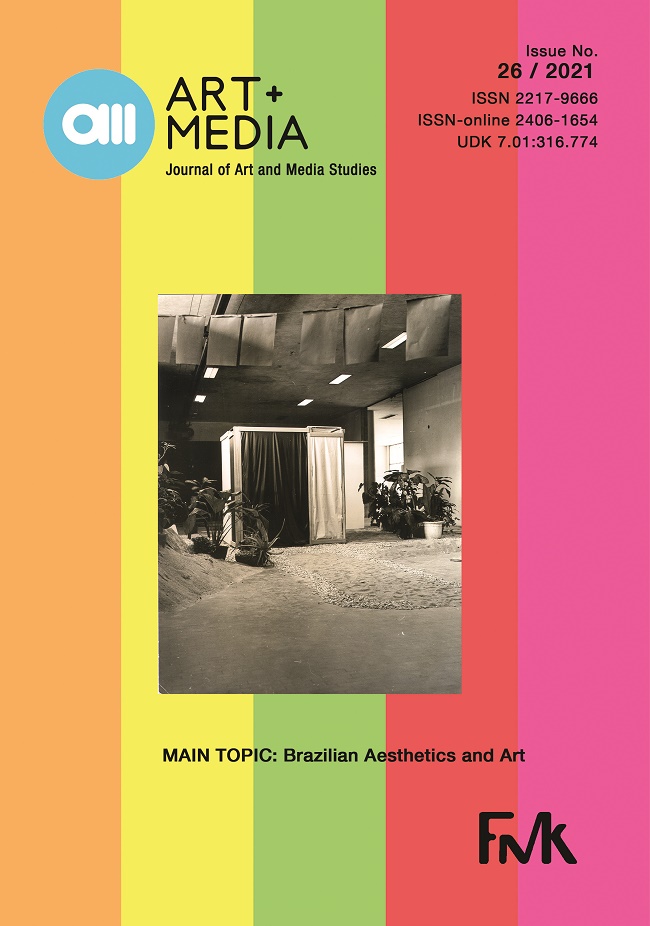 On the cover: Nataša Teofilović, s.h.e. - artikulacija, 2020.