About the Journal
About the Journal
AM Journal of Art and Media Studies (ISSN 2217-9666 - printed, ISSN 2406-1654 - online) is an academic journal for art theory, media studies, cultural studies, general art sciences, philosophy of art and contemporary aesthetics with an interdisciplinary approach and international scope. The journal is open to various theoretical approaches, platforms, and schools of thought: avant-garde theory, semiology, poststructuralism, deconstruction, performance studies, theoretical psychoanalysis, neo- and post-marxism, cultural studies, media studies, gender studies, queer theory, biopolitics, new phenomenology, etc.
Since 2017, the Journal has been issued in English three times per year (on April 15, September 15, and October 15), both in print and in digital, open-access versions.
The Journal was started in 2011. It is indexed in ERIH PLUS, EBSCO, DOAJ, CEEOL, and in the List of Scientific Journals Categorization of Ministry of Education, Science and Technological Development of the Republic of Serbia (M24 starting with issue No. 24, April 2021). Beginning with No. 12 2017, AM is indexed, abstracted, and covered in Clarivate Analytics service ESCI.
AM Journal is an associated journal of the International Association for Aesthetics.
Publisher: Faculty of Media and Communications, Singidunum University, Belgrade, Serbia
Contact: amjournal@outlook.com
Author Guidelines, Copyright Form_Visual Examples, and Copyright Transfer Agreement
Current Issue
No. 31 (2023): Issue No. 31, September 2023 – Main Topic: The Concept of 'Influence' in Art and Aesthetics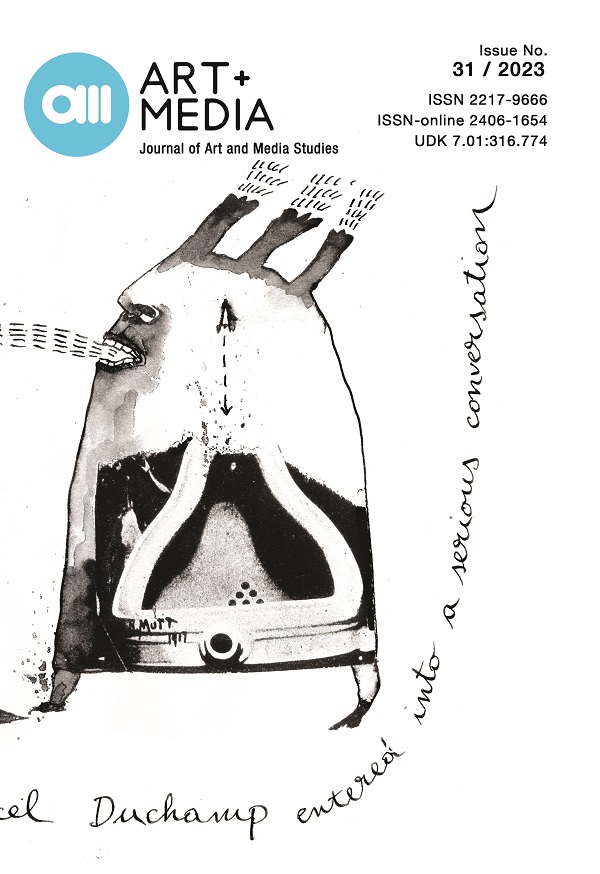 Editor's Note
The question of influence in art and aesthetics can have both positive and negative aspects. It can facilitate certain particulars in the discourse on artistic production, but can also challenge aesthetic judgement. On the one hand, we can establish connections between artists and/or artworks through the investigation of one influencing the other. On the other hand, however, this could also imply that the later artist's oeuvre or artwork's quality is not entirely singular but depends on, or even 'owes' something to, the earlier. There are also other segments in the notion of 'influence'. We can, for example, scrutinize numerous details and factors that have an 'impact' and even 'interference' in the actual perception and appreciation of artworks. How do these obstruct and hinder, or – to the contrary – help the aesthetic effect and efficiency of the exhibited pieces? It can thus again be a positive or negative influence.
Further aspects in the examination could also include the analyses of the possible modifications and even of distortion coming from, for example, the art market, from the shifting accents in the classical infrastructure of art and from the novel technologies that can all influence the making, exhibiting, 'consuming' and evaluating art. How can large-scale art events, biennials, powerful galleries, and collectors influence the canon of art? How do digitalization, AR, and VR modify the modes of connecting to and through art? What influence are they and will they be playing in the art world? What challenges do these pose to our classical concepts of the work of art?
The thematic section of AM Journal of Art and Media Studies is investigating these and similar questions through different types of texts.
Guest Issue Editor
Zoltán Somhegyi, Károli Gáspár University of the Reformed Church in Hungary
On the cover: Milorad Krstić, DAS ANATOMISCHE THEATER / The Simultaneous Games of the 20th Century, 1917.
View All Issues